2015 ICC Cricket World Cup's brouhaha is all over the place. From critical analysis of players chosen for squad to choosing favorite players and teams, cricket fans cannot wait for the event to get started. From all the seriousness of cricket including strategies and captaincy, one does like to take a break and try to know more about players in their personal capacities. When it comes to personal charisma of a player, some of the hottest cricket player is part of the cricket team squads for 2015 Cricket World Cup. There is a unique blend of glamor and sophistication that is part of the player's personality. Before go along and share our list of top ten hottest cricket players in world cup 2015, we would like to say that no hard feelings for players who don't make it into this list. We still love you.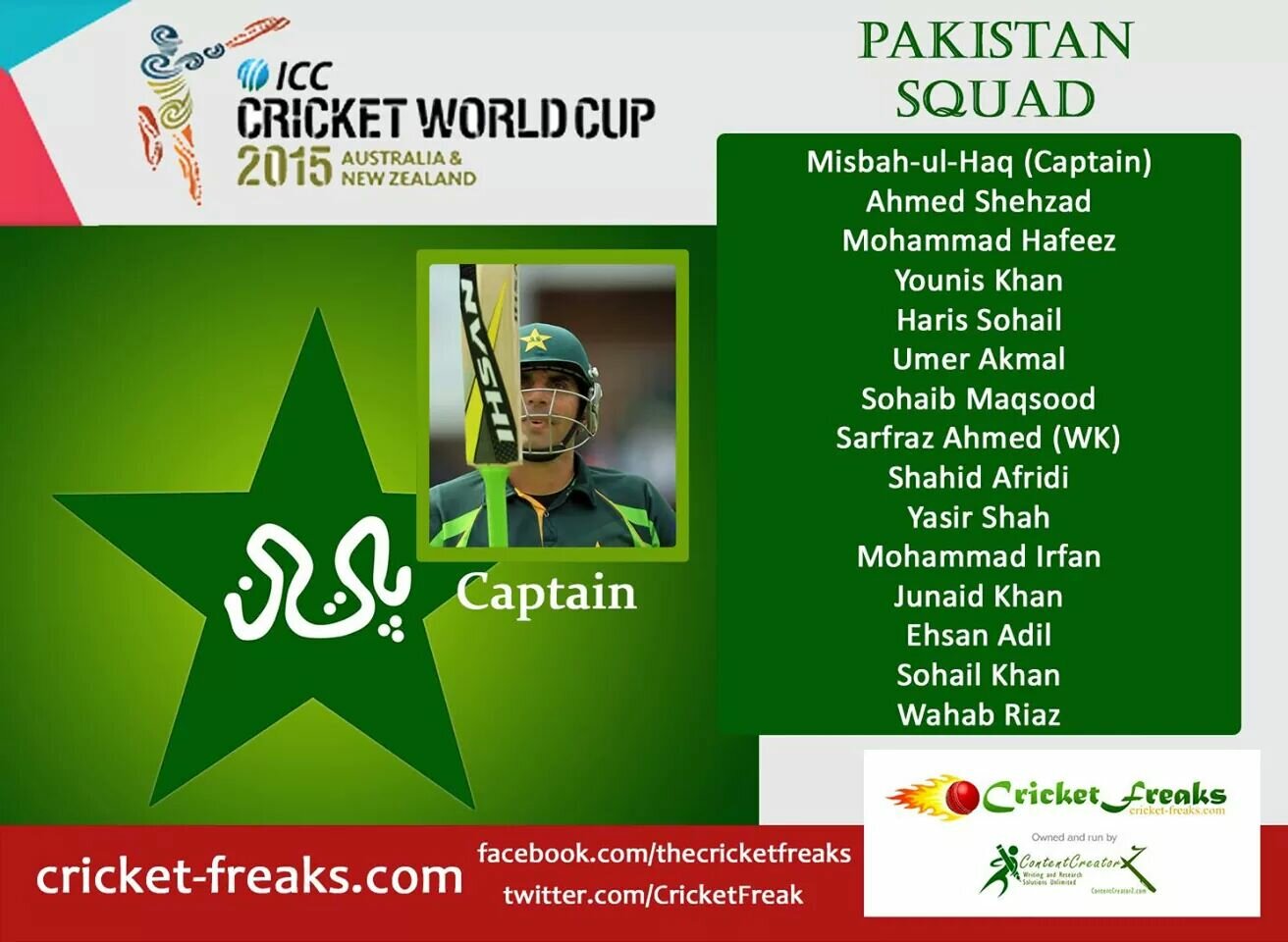 Here comes the most unpredictable cricket team of Pakistan. Pakistani team squad has been announced for 2015 ICC Cricket World Cup to be held in New Zealand and Australia. The squad seems pretty balanced with two opening batsmen, four middle order batsmen, one spinner, five pace bowlers, wicketkeeper/batsman and two all-rounders. Tragic that Pakistan cricket team wouldn't have Saeed Ajmal to do his magical spin bowling as his action is under scrutiny. Same is the case with Mohammad Hafeez who has been chosen for the squad but only in batsman's capacity but wouldn't be bowling because of his problematic bowling action. Thankfully, Junaid Khan and Ehsan Adil have recovered from their injuries and all set to take on the opponent teams in 2015 Cricket World Cup. Pakistani fans will be delighted by Shahid Afridi's performance for one last time in this world cup as Boom Boom Afridi is going to retire after the world cup 2015 tournament. Let's have a look at Pakistan's cricket team squad for world cup.
Pakistan Squad for ICC Cricket World Cup 2015
Misbah-ul-Haq (captain): From Captain Tuk Tuk to best captain in the history of Pakistan cricket, Misbah-ul-Haq is all set to lead his team in Cricket World Cup 2015. Averaging at 42.83 in 153 ODIs, Misbah has scored over four thousand runs with still no century and 37 fifties. What could possibly be done in this world cup by Misbah to leave a long lasting mark in the Pakistani cricket history? Misbah should definitely score his maiden ODI century in this tournament. Of course, win this tournament for Pakistan cricket team to be the best captain ever happened to Pakistan cricket.
Ahmed Shehzad: An opening batsman Shehzad is all set to show his master blaster batting skills in 2015 cricket world cup. This young lad has to offer everything Pakistan cricket batting line up needs. He can build innings along with hitting huge sixes. A well trained player he is, Ahmed Shahzad is going to be an eye candy for women and a possible winner for Pakistan cricket team.
Younis Khan: A true cricket legend of Pakistan, Younis Khan is the most reliable batsman on this side as he has delivered in the toughest times of even his personal life. With over seven thousand runs including 48 fifties, Younis Khan is going to be an innings builder for

Pakistan cricket team

as a middle order batsman.
Mohammad Hafeez: With 22 fifties and 9 centuries in his pocket in 153 ODI matches, Hafeez could be an asset for Pakistan given he can control his nerves which are shaken under critical circumstances. A match against India in this tournament is going to be a final battle for Pakistan, a match even bigger than winning a final trophy.
Haris Sohail: Haris is a new addition to Pakistan's side who is still to show his skills in a world cup. With left hand batting style, Haris is a middle order batsman.
Sarfraz Ahmed: After a lot of search, Pakistan finally has a wicket keeper who is not only good at his job of wicketkeeper but also a very good batsman. He has evolved as a great sensible batsman over the past few series, making his position even more important within the team.
Umar Akmal: With much criticism and support at the same time, Umar Akmal has been made part of Pakistan cricket team because of his occasional bombastic performances a s middle order batsman. Umar is a very experienced batsman who can turn the game around with his fabulous shots. Let's see how he performs in this world cup.
Sohaib Maqsood: Pakistan cricket team expects a little too much from Maqsood because he shares his city with legendary Inzamam-ul-Haq and is only the fifth batsman of Pakistan to score fifties in his first two ODI innings.
Shahid Afridi: Probably his last ODI series performance, Boom Boom Afridi is going to leave cricket world vacant with his retirement. All eyes are on him because Pakistan expects him to perform over the top to leave a Boom Boom mark.
Mohammad Irfan: Tallest man in the cricketing world, Irfan is a real threat for opponents because of his bowling and bouncers. His ability to control runs and take wickets is going to give Pakistan a major advantage.
Junaid Khan: Usually known as Juni, Junaid is one of the most stylish bowlers for Pakistan to lead the team in the ICC World Cup 2015. His style, persona and good looks clearly make him the highlight of this world cup.
Ehsan Adil: Adil is a new addition to team. We are yet to witness what he can deliver as a right arm fast bowler.
Sohail Khan: Sohail is being given a chance despite his average experience. However shouldn't be undermined as being part of the world cup platform can motivate any player.
Wahab Riaz: Wahab has surprisingly shifted his athletic skills to batting as well in the recent past. With his considerable good bowling attack, Wahab can perform both as a bowler and batsman.
 Seems like a balanced team for 2015 Cricket World cup? Let's see how this unpredictable Pakistani cricket team performs. 

South Africa, the second most favorite team for 2015 Cricket World Cup is going to be represented by AB De Villiers. The team has announced the squad for this event. South African cricket team has eight players that have already played world cup including Amla, de Villiers, Duminy, Plessis, Parnell, Steyn, Morkel and Imran Tahir. The new players to experience 2015 world cup include Vernon Philander, Quinton de Kock and Farhaan Behardien. South Africa can easily be declared one of the best cricket teams currently as they have excellent bowling attack and some very experienced batsmen too. Let's have a look at the squad of South African cricket team.
South Africa squad for ICC Cricket World Cup 2015
AB de Villiers (captain): What a batsman Villiers is. His above fifty averages in ODIs is a remarkable achievement since he not only bats for his team but also represents them as a captain. With 42 fifties and 18 hundreds in 175 ODI matches, de Villiers nothing less than a master class for South African cricket team and an inspiration for his team.
Hashim Amla (Vice captain): Amla in his top order batsman position has entertained the cricket fans with his absolutely delightful innings. With an average of 53.18 in 103 ODI matches including 25 fifties and 17 hundreds, Hashim Amla literally is a run machine for South African cricket team.
Farhaan Behardien: is a relatively new addition to the team but has made a significant position as middle order batsman with his quick singles and very busy play.
Kyle Abbott: is also a new addition to the team. He is a right arm fast medium bowler with a good control and pace and could come handy to control the score at

2015 ICC World Cup

.
Quinton de Kock: This young lad has proven himself to be one of the most brilliant batsmen ever at an age of 22 years. With 6 hundreds and 4 fifties in 35 ODI matches, de Kock has proven how he deserves a central position in the South African squad.
Imran Tahir: Tahir despite being the most expensive bowler at times in test career has been phenomenal at so many occasions with his legbreak googly style. He has taken 47 wickets in 27 matches in ODI career at an economy rate of 4.33.
Faf du Plessis: This gorgeous South African man has all the batting talent that is needed to crush the opponent teams at crucial times. With 11 fifties and 3 hundreds in 62 ODI matches, Plessis plays some outrageously gorgeous shots to shake the confidence of his opponents.
Morne Morkel: Morkel along with Steyn is the main attacking bowler. In ODI, he has taken 148 wickets in 87 ODIs at an economy rate of 4.94. His right arm fast bowling style is dangerous for even a settled and experienced batsman.
David Miller: He is a middle order batsman who is relatively new on South African side but has displayed good prospective.
Wayne Parnell: He is a left arm medium fast bowler who has been able to deliver quite many wins for

South African team

with his excellent bowling performances.
Vernon Philander: He could be very threatening with his yorkers. He is a right arm fast medium South African bowler all set to play his first world cup.
Aaron Phangsio: He is a slow left arm orthodox bowler and still to make his mark.
Dale Steyn: Who doesn't know Steyn? Rather knowing that Steyn is part of South African cricket team for

2015 Cricket World Cup

is more than enough to scare the hell out of batsmen. This attacking bowler has his chosen bunnies that fall prey to him at all occasions. Good Luck Hafeez in that case
Rilee Rossouw: He is a batsman and is a new inclusion in South African cricket team.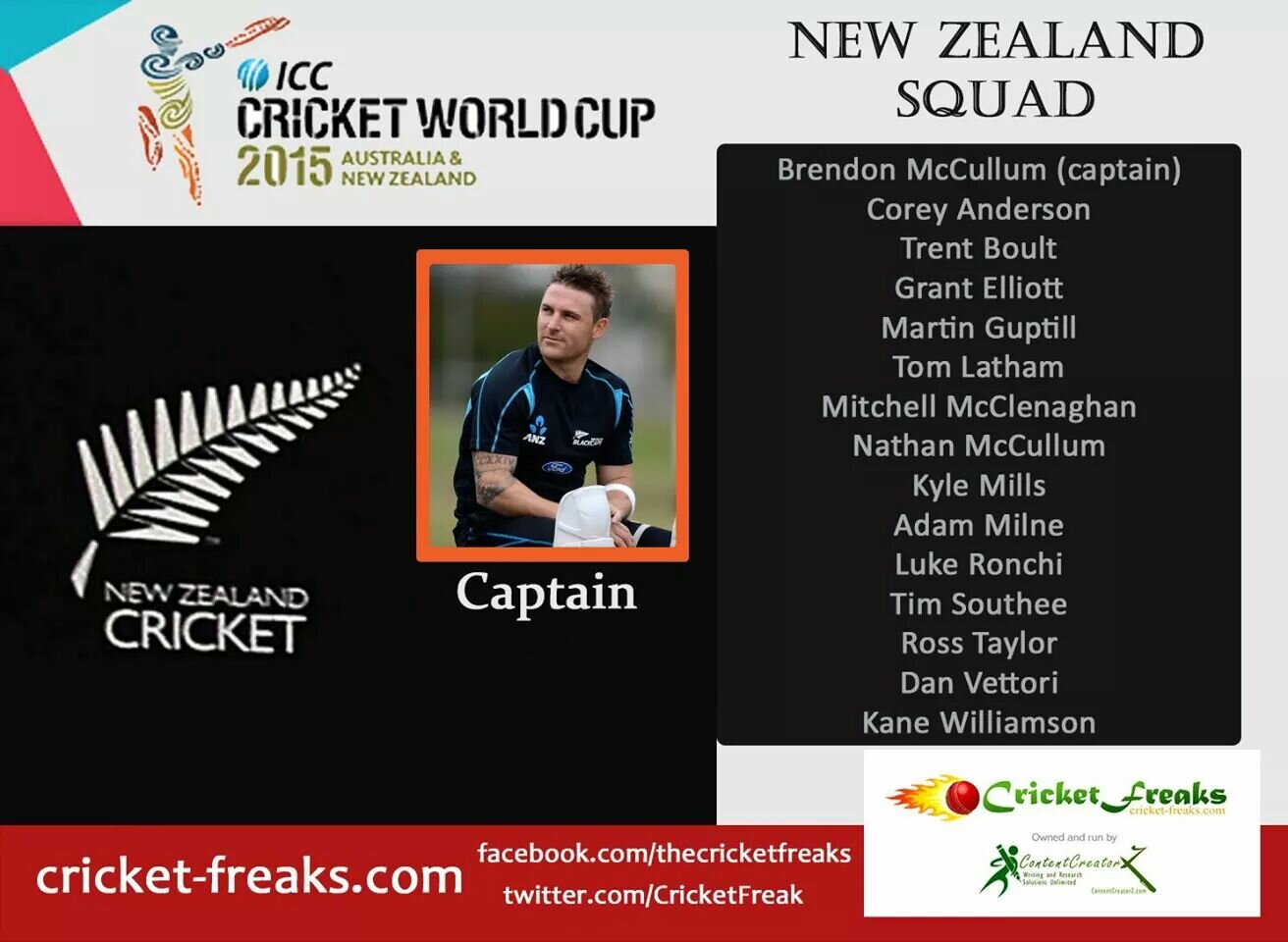 New Zealand's squad for ICC Cricket World Cup 2015 will be led by captain Brendon McCullum. New Zealand's batting side boasts of experience in form of Martin Guptill, McCullum, Kane Williamson and Ross Taylor. As for all-rounders, Corey Anderson and Grant Elliot will represent New Zealand. In the spin department, Daniel Vettori and Nathan McCullum with use their experience. In the recent series against Pakistan in 2014, Tim Southee showed his magical bowling skills which will be tested in 2015 ICC World Cup.
Squad of New Zealand for the ICC Cricket World Cup 2015
Brendon McCullum: is a wicketkeeper and batsman for New Zealand cricket team and is also heading his team in the event of 2015 Cricket World Cup. Before 2015 cricket world cup, McCullum had scored 5251 ODI runs including 27 fifties and 4 hundreds. McCullum knows how to build a match winning innings and with his experience, New Zealand is going to be a tricky contender for world cup trophy.
Trent Boult: is the cutest possible addition in the New Zealand side. He is a left-arm-fast-medium bowler with immense potential to take wickets in the most critical points of the game. Trent is rather a new addition to New Zealand side where he has taken 10 wickets in 11 matches before the world cup 2015.
Corey Anderson: In 19 ODIs, this left hand batsman has scored 2 fifties and 1 century with 131 being his highest score before the world cup.
Tom Latham: is a new addition to New Zealand team as a left hand batsman. He is also the wicketkeeper for Black Caps. He has played in 22 ODIs and 9 test matches before 2015 world cup.
Martin Guptill: is a top order batsman who has played 91 matches before 2015 world cup. In 91 matches, Guptill was able to score 19 fifties and 5 centuries. In 2015 Cricket World Cup, Guptill definitely has a lot to offer.
Grant Elliott: is a rather new player on the New Zealand side who has played only 52 ODI matches before the world cup 2015.H has scored 6 fifties and one century in the ODIs.
Nathan McCullum: is a right arm off break bowler and batsman Kiwis. He has taken 52 wickets in 57 ODI matches at an economy rate of 4.80. He could come handy for the New Zealand side in 2015 ICC World Cup.
Mitchell McClenaghan: is a left arm medium fast bowler who is has played 29 matches taking 60 wickets. He is an expensive bowler but could be dangerous for the opponents.
Luke Ronchi: is a wicketkeeper batsman for New Zealand cricket team. He has played 32 matches where he was able to score 3 fifties.
Kyle Mills: is a right arm fast medium bowler. He is an excellent bowler of New Zealand side who has taken 237 wickets in 167 ODI matches before

2015 world cup

. Among other fast bowlers, Kyle is going to be tough nut to crack for opponent teams.
Adam Milne: is a new addition to Black Caps and is yet to make a memorable impression on the cricket fans with his right arm fast bowling.
Daniel Vettori: Who doesn't know this legend? He has been in the New Zealand side since forever. Lucrative runs machine and spin bowling has made Vettori a match winner for New Zealand.
Ross Taylor:  is a middle order batsman with tremendous experience and batting skills. He has scored 11 centuries and 27 fifties in 142 ODI matches at an average of 41.26. What else do we need to know Taylor's awesomeness?
Kane Williamson: is a middle order batsman and has scored four centuries and thirteen fifties in 60 ODIs.