Australia vs India- World Cup records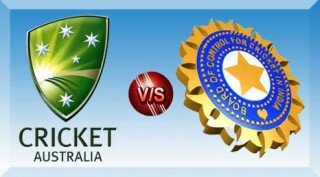 The two teams have met 9 times in world cup matches. Australia has won 7 matches while 2 matches have been won by India cricket team.

Till 1996 Cricket World Cup, close encounters were seen between two countries in world cup matches but since then Australia has been winging convincingly.

Final of 2003 ICC Cricket World Cup was played between these two cricketing countries.
Australian captain Ricky Ponting scored 140* against India in the 2003 ICC Cricket World Cup final, thus making way for his country's victory.
In world cup matches, none of the Indian batsmen have been able to score a century against Australia match while Trevor Chappell, Geoff Marsh and Ricky Ponting have scored centuries against India.
Glenn McGrath has been the most successful bowler with 7 wickets in 3 matches. Brett Lee is on 2nd number with 5 wickets in just 2 matches.
It is worth mentioning that Star Indian batsman Sachin Tendulkar has scored only 40 runs in the last 3 world cup matches against Australia.
Ashish Nehra, Brett Lee, Harbhajan Singh, Ricky Ponting, Sachin Tendulkar, Virender Sehwag, Yuvraj Singh and Zaheer Khan are the only veteran players of 2003 ICC Cricket World Cup who are currently playing in this world cup.
Australian cricket team has not played any match against the Indian cricket team in the 1975, 1979 and 2007 ICC Cricket World Cup.
In the quarter final, Australia was no match for M. S. Dhoni's Indian side. The Indian cricket team in 20111 world cup knock out round played very positive cricket. They not only played well and challenged all their opponents, they truly enjoyed the tournament. Australia scored 260 for 5 while batting first. It was a low score considering the fact that bowling was not India's strength. However, Indian batting line was much better equipped. As a result, chasing 260 was not a problem for India. They won the match with a margin of 5 wickets.