Australian Former Test Cricketer Matthew Hayden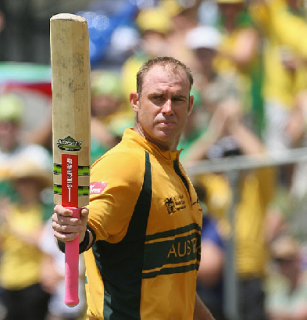 Matthew Lawrence Hayden, a cricket player from Australia was born on 29 October, 1971. From 2001-2005, he made 6366 runs in 66 Tests. He is greatly applauded as an established  tough wicket player. Hayden made about 1900 runs in various matches against India, at an average of 59. In 2000-01, he played against India in Test Cricket and showed excellent performance. Hayden's three centuries at Sydney, Melbourne and  Adelaide, guaranteed success for Australia in Test Cricket. His all time affiliation with Justin Langer was a great success in Test Cricket. From 2001-2005, Hayden made more than 1000 Test  runs. Hayden was amongst  the five chosen cricketers, in 2003, at Wisden. Mathew has played 161 ODIs scoring 6113 runs at an average of 43.80 including ten centuries and 36 fifties. In test cricket, Mathew has played 103 match scoring 8625 runs at an average of 50.73 including 30 hundreds and 29 fifties. His statistics show how Hayden was a beast when it came to batting. He has been the most lucrative batsman for Australian cricket team with tremendous composer and ability build long innings for the team.
In Perth, in the First Test played against Zimbabwe, on October 10, 2003, Hayden made a score of 380 runs from 437 balls.  It was a new record set by him in Test innings in the world, surpassing  Brian Lara's record made in the past. In the 2005/06 Test matches played on the grounds of The Oval, Hayden made centuries successively  in four Tests. He played very well in Perth in the Ash series, in 2006-07. In India, the next summer he made three centuries in four test matches. This brought his career entirety to thirty successful centuries. The time period of 2008-09 was viewed as Hayden's farewell to Test cricket. His decided to retire from  the  Australian cricket team when his name was excluded from the ODI. Hayden was acknowledged as the best opening player and Australia might never find such a talented opener again.