Women's cricket is getting more and more popularity, and the national team of Pakistan can be commended for making a big progress from its founding, as until today it has managed to win two consecutive gold medals at Asian Games. This was majorly due to the captaincy of Sana Mir, one of the best women's cricket players out there.

2015 ICC Cricket World Cup's brouhaha is all over the place. From critical analysis of players chosen for squad to choosing favorite players and teams, cricket fans cannot wait for the event to get started. From all the seriousness of cricket including strategies and captaincy, one does like to take a break and try to know more about players in their personal capacities. When it comes to personal charisma of a player, some of the hottest cricket player is part of the cricket team squads for 2015 Cricket World Cup. There is a unique blend of glamor and sophistication that is part of the player's personality. Before go along and share our list of top ten hottest cricket players in world cup 2015, we would like to say that no hard feelings for players who don't make it into this list. We still love you.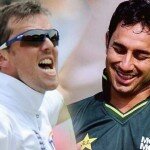 As time is passing, cricket is evolving and growing better by every passing day. The players also are developing new techniques and skills to perform their best on the field. Just when everyone thought that the world of cricket is witnessing the phase of extinction of off-spinners breed with the retirement of Muralitharan and the degrading performances of Harbhajan Singh, the beautiful game of cricket gave the world two world class off-spinners in Saeed Ajmal and Graeme Swann.
Whether it is in Indian subcontinent or in English conditions, Graeme Swann has proved himself on every turf that he has been asked to play. On the other hand, Saeed Ajmal has changed the game of cricket with his skillful bowling changes and his variations. Pakistan fraternity is now equipped with a weapon which it has not witnessed since the departure of Saqlain Mushtaq from the scene. The land of Akram's , Imran's and Waqar's has seen some of the greats in the spin department with Abdul Qadir and Mushtaq Ahmad being the best among them. But it was Saeed Ajmal who made his mark as one of the perfect game changer a team wants in its ranks. He has breathed a new life into the Pakistani bowling attack. Read more..

Read more..

Phillip Anthony Jason DeFreitas is a retired player of the English cricket team who played county cricket for Derbyshire, Lancashire and Leicester shire. He also appeared in 103 One Day Internationals and 44 Test matches. DeFreitas expertise was his dynamic bowling and flawless fielding. He was a part of the English Cricket team which played 1992 World Cup cricket final against Pakistan Cricket team which was led by Imran Khan.
Daffy, as he was nicknamed, made his first-class debut in 1985 for Leicestershire playing against the Oxford University. He made a superb bowling record of 3.4-2-3-3 while the subsequent year bequeathed him with enhanced performance wherein he made his maiden century against at no. 9 and won 94 wickets. DeFreitas was then selected for the Ashes tour to be undertaken in 1986-87. The best Test series he had been: against West Indies in 1991 where he won 22 wickets, and against New Zealand in 1994 where he bagged 21 wickets. He was honored with the prestigious award of Wisden Cricketer of the Year in 1992.
In April 2005, DeFreitas announced his retirement. He was the 100th player to have won 100 wickets in Test cricket: quite a prestigious honor it is. Daffy today teaches at Magdalen College School located in Oxford after serving as a Cricket Mater for the Oakham School in 2009.
DeFreitas is remembered well by the Cricket fans from all over the world. As a bowler, he made his mark in one day international cricket as well as Test Cricket. England cricket has produced many great players in the field of ODI and Test cricket and there is no doubt about the fact that Philip DeFreitas is one of them.