Misbah-ul-Haq v Imran Khan- Best test captains of Pakistan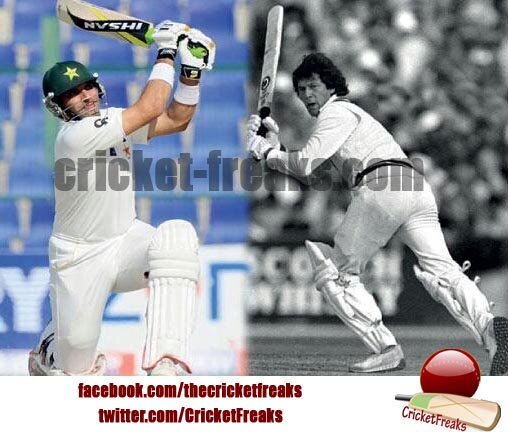 Misbah-ul-Haq v Imran Khan?
Who would have thought that such a comparison would exist especially in test cricket with Pakistan's predictably unpredictable batting line? We would like to take an honor in comparing Imran Khan and Misbah, the two successful test captains of Pakistan. Misbah-ul-Haq became the most successful test captain of Pakistan cricket history by breaking the record of Imran Khan and Javed Miandad in a series against New Zealand, 2014. By winning the 15th test match as a captain, Misbah-ul-Haq has become the most successful test captain of Pakistan after holding the joint record of 14 wins with Javed Miandad and Imran Khan, both of whom captained Pakistan in more test matches than Misbah. Misbah's unending stream of win starting off from 2011 has made him reach a spot where it is only fair to compare Misbah and Imran in terms of their captaincy brilliance.
Misbah vs Imran Khan is no easy task to attempt. Imran Khan be
ing the hero of Pakistan for winning the 1992 Cricket World Cup and being a successful test captain has always enjoyed the exclusivity. He always had an attacking strategy for his opponents however Misbah in contrast to Imran Khan is much more defensive. Misbah had to face a lot of criticism throughout his career for being a relatively slow player. But Misbah-ul-Haq defied all challenges and blames and kept on strengthening the team. When only recently in 2014 his form deteriorated, he was expected to give up his captaincy but he managed to improve his performance by scoring the fastest test fifty and leveling the record of Viv Richards for scoring the fastest test hundred.
Historically speaking, Pakistan cricket team has had four most successful test captains including Imran Khan, Javed Miandad, Inzamam ul Haq and Wasim Akram. Among these four best test captains of Pakistan, Imran Khan was leading the chart as far as most test captained and most wins was concerned.  Win percentage as  Pakistan team Test captain is better for Javed Miandad, Inzimam ul Haq and Wasim Akram. Imran Khan has a win proportion of 14 wins in 48 matches with a winning percentage of 29.16. In comparison to Imran Khan, Misbah has claimed 15 wins in 32 matches which make his winning average of 46.87, even higher than Javed Miandad (41.17). According to statistics, Wasim Akram's win percentage is still the highest, but his total wins are less than Misbah ul Haq's Test wins as a captain.
Considering the contrast in approaches of Misbah ul Haq and Imran Khan, it seems a far greater achievement on behalf of Misbah to be able to achieve such a feat in his relatively short but significant career. In a comparison between Imran Khan vs Misbah-ul-Haq, one could also notice that Imran Khan won the 1992 World Cup at the age of 40 as a captain and Misbah ul Haq is going to play 2015 cricket World Cup at the age of 40 too. What a coincidence!
Question is, would Misbah be able to win 2015 ICC World Cup Championship just like Imran Khan at the age of 40? In the meantime, we congratulate Misbah-ul-Haq for breaking the record of Imran Khan's test captaincy lead.