Jean-Paul Duminy is left hand middle-order batsman of South African cricket team. Initially Duminy had rough time as he was dropped from the team due to his inconsistent performance. However he made a good come back and made his position permanent in team.
Jean Duminy made his ODI debut in South African cricket team on August 20, 2004 against Sri Lanka. In 129 one day international matches, Jean Duminy scored 3571 runs at an average of 39.42 and strike rate of 83.45. Duminy has scored 20 fifties and 3 hundreds with 150 his highest score in ODI.

Duminy made his test debut on December 17, 2008 against Australia. In 12 test matches, Duminy has scored 1280 runs at an average of 36.57 with a strike rate of 42.83. Duminy has scored 6 test fifties and four test hundred with 166 being his highest test score.

Duminy at an average of 41.91 has scored over 1900 runs with 12 fifties and two centuries.

Jean Duminy at home has scored 1242 runs at an average of 154 however his average is just over 30 in away games scoring 728 runs.

2011 Cricket World Cup is the first World Cup for Duminy. In 6 matches of 2011 ICC Cricket World Cup, Duminy has scored 221 runs at an average of 44.20 and strike rate of 101.84. His highest score in World Cup is 99.
Highlights of player record:
He set a 9th wicket partnership with Dale Steyn by scoring 180 and surpassed the previous partnership record by Graeme and Pollock against Australia. 

The first wicket taken by Duminy was of

Michael Clark of Australian cricket team

.
Duminy has been very significant in his batting performance both in ODI and test cricket formats. He can be extremely dangerous player for the opponents with his bat due to his ability to hit shots under pressure. He can be dangerous in last ten overs whenever there is a need for hitting sixes and fours and he always makes a good contribution to save South African cricket team.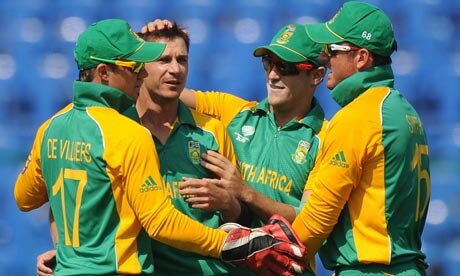 South African cricket team is hungry for success with the real strength. South Africa is a very strong team that hasn't won any event that is organized by ICC (International Cricket Council). Even though they are the strong team since their comeback in 1992, they have failed to perform in the big games like semi finals and finals. Over the past few years, South Africa has shown some tremendous performance in all three formats of cricket. From Hashim Amla's graceful innings to Faf's powerful hits, South African team is a beautiful blend of talent and team coordination. One of the top three favorites for ICC 2015 World Cup definitely includes South African team because of their consistent performance and dangerous talent. 
South African team is full with the batting talents like AB DeVilliers, JP Duminy, skipper Graeme Smith, Faf du Plessis, Hashim Amla, Miller and greatest all rounder Jacques Kallis himself. The bowling department is relying on the impressive performers like Dale Styen, Makhaya Ntini, Parnell, Imran Tahir, Philander and Tsotsobe. South African team always comes into the tournament as one of the favorites to win the World Cup. The team is praised by all for their fielding. According to the experts, it is very hard to break the off-side field in the presence of AB DeVilliers and JP Duminy.
The biggest issue with the team is their inability to handle the pressure in semi finals and finals. In 1999, South Africa lost their spot from the finals due to the tie with Australian team. They can choke at any given point in the game and lose a match from almost winning spot. Nonetheless this doesn't make South African team any less likable among the cricket fans. In all and all, South Africa is a title hungry team that can defeat any opponent with ease.