Australian Former Cricket Star Dennis Lillee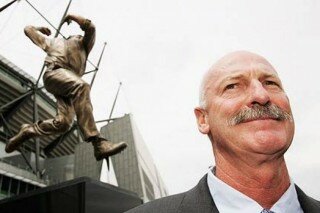 Dennis Keith Lillee, hailing from Australia was born on 18 July 1949 in Subiaco, West Australia. He started his professional career in 1971, in the Ashes series and gained significant prominence by getting acknowledged as a great bowler. During the opening of the World Cup in England, in 1975 Lillee obtained eight wickets against Pakistan, in five matches played at Leeds. He maintained 21 wickets in the successive four-Test series against England leading his team to win by 1-0. Lillee's bowling was timed at 154.8km/h in 1975, by the University of Western Australia. In the summer of 1975-76, he captured another 27 wickets against the West Indies.
Early in 1976-77, Lillee's responsibility and work load increased due to an injury to Jeff Thomson, but he performed exceptionally well during the six Tests of the season.
In 63 ODI matches, Dennis Lillee took 103 wickets with 5/34 being his best figures. His economy rate was 3.58, averaging at 20.82. In test cricket format, Dennis took 355 wickets in 70 matches, averaging 23.29 at an economy rate of 2.75. Dennis was a tearaway fast bowler but he had to change his game and reassess pace bowling because of his career threatening injuries. But as long as he played, he was a major threat for his opponents.
He captured 47 wickets against Pakistan including match statistics of 10/13 at the MCG and at Auckland 11/123 against New Zealand. In May 1977, he was announced as one of the World Series Cricket (WSC) players. During 1978-79, in nine 'Super tests' he captured 46 wickets against the West Indies, with a best of 7/23 at the SCG. In 1980-81, in matches against New Zealand and India, Lillee captured 37 wickets in six Tests and was the chief bowler in the World Series Cup consecutively for the second season. In the competition he led Australia to win by contributing 25 wickets to the score. During the final Test at Sydney in 1984, Lillee announced his retirement from cricket.