Memorable one day international cricket matches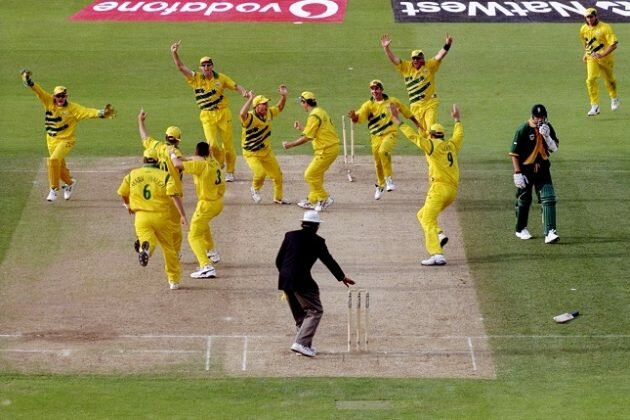 A 50 overs format, two teams and 22 players! One day international cricket has to be the most exciting cricket format. One Day International (ODI) games have always offered spectacular competitions with some of the most memorable moments for cricketing legends. Individual opinions can vary but to us, these are the five ODI matches which deserve to be remembered. These ODI matches have been chosen based on the quality of individual performance, importance, climax and results.
South Africa v Australia- 5th ODI, Johannesburg, 2006
This series between the two great rivals was tied  at 2-2. It was the fifth and final match. Australian cricket team played its heart out and racked up 434 runs, a world record. Ricky Ponting, the then captain of Australian team played one of the finest innings of his life. Nobody thought South Africa would be able to chase this target however Herschelle Gibbs of South Africa played an even better innings and South Africa blasted their way part the total in the final over. It was one of the most astounding results for people in the ground and for spectators. This match witnessed records such as most sixes ever hit in ODI match whereas Mick Lewis of Australia gave worst bowling performance in history.
Australia v South Africa, World Cup semi-final, 1999
This game has to be an out of this world run feast. A total of 213 runs scored by Australia didn't seem enough initially. The then Australian captain Steve Waugh and Michael Bevan did the real job while their teammates fell to marvelous bowling spells by the two greatest South African bowlers Shaun Pollock and Allan Donald. South Africa struggled in their innings due to spin of Shane Warne. But it was Lance Kluserner who cruised all the way to level the scored. This match finished in a tie but Australia made it to finals due to better record.
Australia v West Indies, Sydney, 1996
Michael Bevan of Australia is known for a best finisher. This one day played a significant role in making him a legend. The match had to face rain and it was difficult for both team to score. However West Indies managed to score 172 runs with marvelous innings from Carl Hooper. The left handed Michael Bevan was under a lot of pressure but it didn't break his nerves. He hit a four off the last ball to win the match for Australia.
India v Pakistan, Austral-Asia Cup Final, 1986
It is the most memorable match with regards to famous six hit by Pakistani greatest batsman Javed Miandad. It was an absolute start all rounder performance from India but they had to face a problem of Javed Miandad's skills. He played an innings that ensured his status as a national hero. Javed Miandad scored 116 out of 248. It was his six on the last ball that helped Pakistan win.
India v Sri Lanka, Rajkot 2009
India scored a huge total of 414 runs whereas Sri Lanka lost the match by only 3 runs and collapsed at 411. The wicketkeepers of both the teams picked up the momentum. Mahendra Signgh Dhoni of India and Kumar Sangakkara of Sri Lanka managed to paly exceptional innings for their teams.