Most Half Centuries in Cricket World Cups-World Cup Wise and Nation Wise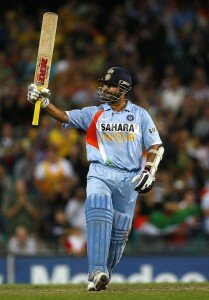 Most Half Centuries in Cricket World Cups
It's Sachin Tendulkar again. India's most worshipped and loved batsman who has been considered as one of the best batsman in cricket history holds this record as well. Sachin Tendulkar has scored 17 half centuries in Cricket World Cup history at an average of 57.93 runs per inning. The strike rate of Sachin Tendulker remained phenomenal at 88.21. Ricky Ponting, the Australian skipper and Herschelle Gibbs, a promising batsman from South Africa share the second position en masse. Both have scored 10 half centuries each in Cricket World Cups held to date. Amongst the two, Herschelle Gibbs is better off on the basis of good batting average and strike rate in World Cup matches. His batting average is 56.15 and strike rate is 87.38. Ricky Ponting scored his ten 50s at a strike rate of 81.06 whereas; his batting average for World Cups is 48.03 runs per match.
Most Half Centuries in Cricket World Cups-World Cup wise
Likewise centuries, scoring a 50 runs are always crucial in a cricket match. Once the batsman is half way through, his confidence level pops up and he strives to record a century. However, sometimes it happens he does not manage to reach the 100 mark and gets out. Despite that, the significance of scoring 50 plus runs are always significant to turn a match into one team's favour. Here is a list of most fifties scored by assorted batsmen whose half centuries has mostly set course of the tournament in their countries' favour.
1983 Cricket World Cup: Vivian Richards (West Indies) made 2 half centuries
1987 Cricket World Cup: David Boon (Australia) scored 5 fifties of which 2 consecutive half centuries in semi final vs. Pakistan (65 runs) and final vs. England (75 runs)
1992 Cricket World Cup: Sachin Tendulkar (India) made 3 half centuries.
1996 Cricket World Cup: Sachin Tendulkar (India) scored 3 fifties
2003 Cricket World Cup: Sachin Tendulkar (India) made 7 half centuries
2007 Cricket World Cup: Scott Styris (Australia) scored 5 fifties.
Most Half Centuries in Cricket World Cups-Nation Wise
Most half-centuries recorded by any cricket nation is Australia with 56 fifities during 1975-2007 Cricket World Cups where the current Aussie Skipper Ricky Ponting stands tall with 10 half centuries under his belt. India stands second with 51 fifities. These half centuries include 17 fifties scored by master blaster Sachin Tendulkar. Sachin Tendulkar's half centuries is the 33.3% of the total half centuries scored by India. This means, Sachin Tendulkar is the biggest factor behind this record for India. Just short of 5 fifties, Pakistan comes next with 46 half centuries in its pocket. From Pakistan, the legendary Javed Miandad is the leading batsman who has made 9 half centuries for Pakistan. On the third position comes West Indies with 36 half centuries across the board with Brian Lara the key man who has scored 9 fifties for West Indies. As the 2011 Cricket World Cup is just round the corner. We would be watching old records to be replaced by new ones shortly.
Most Half Centuries by Opener Batsman in Cricket World Cups
Undoubtedly, he is none other than Sachin Tendulkar with overall 17 half centuries with an outstanding strike rate of 88.21, most of the fifties are scored as opener. Although he has also been batting as a middle order batsman for India, the priority goes to him on the basis of excellent performance in Cricket World Cups. He was the highest half centuries scorer in 2003 Cricket World Cup where he solely scored 7 half centuries. It is to be noted that none of the cricketers in the cricket world have made 7 or more fifties in a single tournament as Sachin Tendulkar did.  Not only that he holds the record of being the only batsman with most half centuries in three Cricket World Cups viz. 1992 Cricket World Cup, 1996 Cricket World Cup and 2003 Cricket World Cup. Sachin Tendulkar not only holds records in Cricket World Cup but also in Test cricket and One Day Internationals (ODIs).
Most Half Centuries in Cricket World Cups by Middle Order Batsmen
The feather of most half centuries recorded by a middle order batsman is in the cap of Herschelle Gibbs. The South African middle order batsman (who was formerly an opener) has scored 10 fifties in Cricket World Cup. Although Ricky Ponting, the Australian Skipper and a classy middle order batsman shares this record with him, however; on better batting average and better strike rate, our choice is Herschelle Gibbs. Herschelle Gibbs has scored 10 half centuries at a batting average of 57.15 runs with a strike rate of 87.38. Whereas, Ricky Ponting has also scored 10 half centuries but with a comparatively lower batting average of 48.03 runs and strike rate of 81.06. this tie is expected to be broken in the forthcoming 2011 Cricket World Cup as both the players are in good form and all set to blaze the Sub Continent grounds with their excellent drives and shots.