Best All rounders in Cricket-Hall of Fame All rounders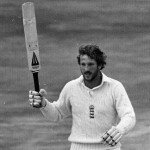 Details about best all-rounders in cricket history
Having tackled the openers and the middle-order kings, here are the terrific ten who most definitely 'can bat, can bowl'
Ian Botham
Tests: Highest Rating 646 (1980), Highest Ranking 1st (1978-1984).
ODIs: Highest Rating 469 (1983), Highest Ranking 1st (1980).
For a five-year period from 1978 to 1983 he truly dominated the world game, spending time on top of the bowling charts as well as the all-rounder list. His batting wasn't bad either- peaking at 811 batting points after his double-century against India at the Oval in 1982. He was less effective in One-day cricket, but still managed to muscle Greg Chappell out of top spot for a six-month period in 1980.
Kapil Dev
Tests: Highest Rating 433 (1981), Highest Ranking 1st (1992-1994). 73 matches at number 1
ODIs: Highest Rating 632 (1985), Highest Ranking 1st (1983-1994). 655 matches at number 1No-one has come close to Kapil's 655 matches on top of the ODI all-rounder list – his nearest challenger is Jacques Kallis some two hundred matches behind him. In addition, his 632 points has never been bettered – indeed no-one else has reached higher than 569. He was the leading Test wicket-taker on his retirement and managed a lengthy spell on top in the longer form of the game late in his career, despite his home pitches rarely giving him the same help they gave his spinning colleagues.
Richard Hadlee
Tests: Highest Rating 483 (1987), Highest Ranking 1st (1984-1989). 133 matches at number 1
ODIs: Highest Rating 471 (1986), Highest Ranking 1st (1983). 10 matches at number 1
Hadlee's career ended in such a peak form that in his last 39 Tests, his bowling rating never dropped below 862. Without the presence of Malcolm Marshall at exactly the same time, he surely would have spent more than his 127 matches as the top Test bowler. His bowling was his stronger skill but he did manage to reach the top ten in the ODI batting charts early in his career, before reaching the top spot in the bowling table in 1983 and not moving far from there until his retirement seven years later.
Imran Khan
Tests: Highest Rating 518 (1983), Highest Ranking 1st (1983-1992). 104 matches at number 1
ODIs: Highest Rating 480 (1983), Highest Ranking 1st (1990). 1 match at number 1
Only two men have ever reached higher Test bowling ratings than Imran's 922 which he achieved after his forty wickets in the 1982/83 series with deadly rivals India. Having debuted in 1971, his bowling peaked once he had matured, but his highest batting rating was achieved the month before his retirement. Arguably, he was most famous for captaining Pakistan to their World Cup win.
Wasim Akram
From a short run-up, this left-handed, former Pakistan fast bowler could deliver balls with surprising pace. Wasim Akram's run up was distinctive- as was his tendency to shield the ball from the batsman's view before delivering it. His main bowling weapon was swing and seam at high-speeds. Akram was also a bowling all-rounder since he also made good contributions as an attacking left-handed batsman.
None found.