Golden Time of Cricket Teams: Australia 1999-2007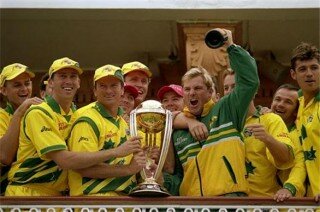 None can share this laurel which Australia holds, the best ODI team cricket world has ever produced. Australia was the undisputed king of ODI format during 1999 – 2007.Some of the records registered by the Kangaroos are still unbeaten as they have consecutively won 21 ODI matches during 2003; a worthwhile feat to look at.  Furthermore, three successive World Cup titles from 1999 to 2007 put them on top of the cricket world. If we look at the World Cup matches performance, Australian Cricket team won 25 matches in a row and played 34 games without a single defeat.
The killing combination of some great Australian players never allowed anyone stand in their way to success. Legendary cricketers like Glenn McGrath, Ricky Ponting, Shane Warne and Adam Gilchrist played a dominant part in winning all the three World Cup finals during the discussed period. Ricky Ponting is considered to be the most successful captain ever in the history of Cricket. Whether it's a test match, an ODI or a T20 format, this collective performance as a captain is phenomenal.
Australians as a team set example for all the other cricketing nations as how to reinvent themselves and keep hitting the target successfully no matter whatever the situation at the game is. With the retirement of Shane Warne, Australians never sat back and found Brad Hogg as a good replacement for their team. Aussies are still one of the best teams of the Cricket world and great entertainers for cricket fans across the globe.
Even after 2007, Australian cricket team is considered as one of the most skilled and competitive team in the world of cricket. Although Australia did not win the world cup in 2011, the team was still included in the list of favorites. Australia is no more the invincible team it used to be, but it is still a force to reckon with. Cricket in Australia is well organized thus more and more skilled and talented players join the national side frequently.