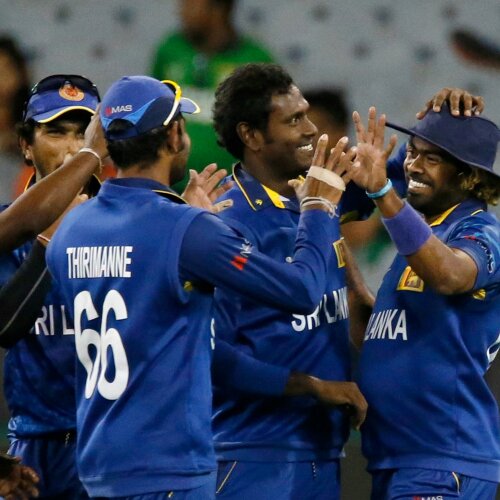 Since the start of the Cricket World cup number of records have been made and registered in the history of in golden words.  Records such as most number of Runs, Wicket, and Highest Partnership have been constantly the talk of the town with fans praying and cheering for their favourite cricket superstars achieving world records.  Once again the highest trophy of the Cricket will be claimed one of the many teams participating in the tournament and only the mightiest of all will win the matches and take the dream trophy home. Let's take a look on some of the most interesting and popular records of the cricket.
Highest Partnership by Wicket in the Cricket World Cup
The credit is held by the Srilankan Cricket Tigers Upul Tharanga and T Dilshan. On March 10th 2011, during Sri Lanka Versus Zimbabwe, Tharanga and Dilshan played for first wicket and smashed 282 runs jointly, increasing the excitement in the ground manifolds and stealing the show of the day.
For the second wicket Indian roaring tigers Sourav Ganguly and Rahul Dravid made 318 runs during India Versus Sri Lanka on 26th May 1999.
For the third Wicket again India Master Blaster Sachin Tendulkar and Mr Dependable Rahul Dravid scored 237 runs during the India Versus Kenya 1999 Cricket World Cup.
Michael Clarke and Brad Hodge of Australia made 204 for the fourth wicket during Australia Versus Netherlands on 18th March 2007.
For fifth Wicket Roger Towse and Chris Cairns of New Zealand made 148 runs during New Zealand Versus Australia match on 20th May 1999.
Highest Partnership by Runs in the Cricket World Cup
On November 8th during the Cricket World Cup, Sachin Tendulkar and Rahul Dravid scored tremendous 331 runs against New Zealand at a match Hyderabad Deccan ground.
Second highest run partnership is again from India where Bengal Tiger Sourav Ganguly and Rahul Dravid batted for 318 runs in during 1999 World Cup at Taunton Ground against Sri Lanka.
Wu Tharanga and ST Jayasuriya are on the third spot with a striking partnership of 286 runs against England during match at the Leeds.
WU Tharanga and TM Dilshan are on the fourth place with 282 runs against Zimbabwe during 10th March 2011.
M Azharuddin, and A Jadeja are in fifth ith 275 runs against Zimbabwe for the fourth wicket.
JAH Marshall and BB McCullum hold sixth spot with 274 runs for the 1st wicket against Ireland.
GD Elliott and L Ronchi made 267 runs for the 6th wicket against Sri Lanka in an one day International.
Aamer Sohail and Inzamam-ul-Haq totalled 263 runs together for the 2nd wicket against New Zealand.
Sourav Ganguly and Sachin Tendulkar of India made 258 runs for the first wicket against Kenya.
These are not all and there are various players who have set the record of the partnership by Runs and partnership by Wicket that the readers should definitely go for and enhance their cricket knowledge.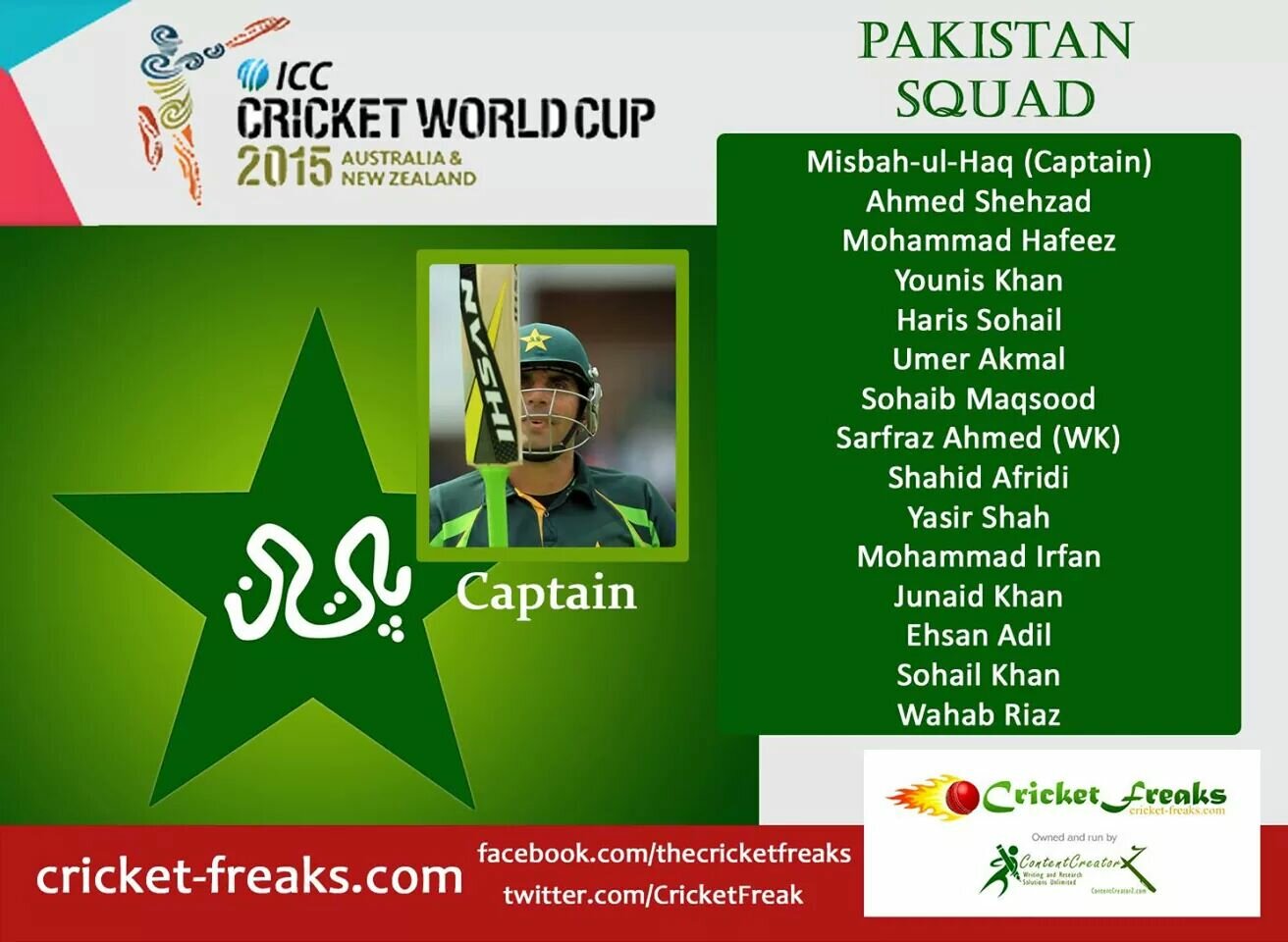 Here comes the most unpredictable cricket team of Pakistan. Pakistani team squad has been announced for 2015 ICC Cricket World Cup to be held in New Zealand and Australia. The squad seems pretty balanced with two opening batsmen, four middle order batsmen, one spinner, five pace bowlers, wicketkeeper/batsman and two all-rounders. Tragic that Pakistan cricket team wouldn't have Saeed Ajmal to do his magical spin bowling as his action is under scrutiny. (Update: Saeed Ajmal's bowling action has been declared legal by the ICC. Will he be a part of Pakistan cricket squad in 2015 world cup or not is still to be seen). Same is the case with Mohammad Hafeez who has been chosen for the squad but only in batsman's capacity but wouldn't be bowling because of his problematic bowling action. Thankfully, Junaid Khan and Ehsan Adil have recovered from their injuries and all set to take on the opponent teams in 2015 Cricket World Cup. Pakistani fans will be delighted by Shahid Afridi's performance for one last time in this world cup as Boom Boom Afridi is going to retire after the world cup 2015 tournament. Let's have a look at Pakistan's cricket team squad for world cup.
Pakistan Squad for ICC Cricket World Cup 2015
Misbah-ul-Haq (captain): From Captain Tuk Tuk to best captain in the history of Pakistan cricket, Misbah-ul-Haq is all set to lead his team in Cricket World Cup 2015. Averaging at 42.83 in 153 ODIs, Misbah has scored over four thousand runs with still no century and 37 fifties. What could possibly be done in this world cup by Misbah to leave a long lasting mark in the Pakistani cricket history? Misbah should definitely score his maiden ODI century in this tournament. Of course, he should as a captain also win this tournament for Pakistan cricket team to be the best captain who ever happened to Pakistan cricket.
Ahmed Shehzad: An opening batsman Shehzad is all set to show his master blaster batting skills in 2015 cricket world cup. This young lad has to offer everything Pakistan cricket batting line up needs. He can build innings along with hitting huge sixes. A well trained player he is, Ahmed Shahzad is going to be an eye candy for women and a possible winner for Pakistan cricket team.
Younis Khan: A true cricket legend of Pakistan, Younis Khan is the most reliable batsman on this side as he has delivered in the toughest times of even his personal life. With over seven thousand runs including 48 fifties, Younis Khan is going to be an innings builder for

Pakistan cricket team

as a middle order batsman.
Mohammad Hafeez: With 22 fifties and 9 centuries in his pocket in 153 ODI matches, Hafeez could be an asset for Pakistan given he can control his nerves which are shaken under critical circumstances. A match against India in this tournament is going to be a final battle for Pakistan, a match even bigger than winning a final trophy.
Haris Sohail: Haris is a new addition to Pakistan's side who is still to show his skills in a world cup. With left hand batting style, Haris is a middle order batsman.
Sarfraz Ahmed: After a lot of search, Pakistan finally has a wicket keeper who is not only good at his job of wicketkeeper but also a very good batsman. He has evolved as a great sensible batsman over the past few series, making his position even more important within the team.
Umar Akmal: With much criticism and support at the same time, Umar Akmal has been made part of Pakistan cricket team because of his occasional bombastic performances a s middle order batsman. Umar is a very experienced batsman who can turn the game around with his fabulous shots. Let's see how he performs in this world cup.
Sohaib Maqsood: Pakistan cricket team expects a little too much from Maqsood because he shares his city with legendary Inzamam-ul-Haq and is only the fifth batsman of Pakistan to score fifties in his first two ODI innings.
Shahid Afridi: Probably his last ODI series performance, Boom Boom Afridi is going to leave cricket world vacant with his retirement. All eyes are on him because Pakistan expects him to perform over the top to leave a Boom Boom mark.
Mohammad Irfan: Tallest man in the cricketing world, Irfan is a real threat for opponents because of his bowling and bouncers. His ability to control runs and take wickets is going to give Pakistan a major advantage.
Junaid Khan: Usually known as Juni, Junaid is one of the most stylish bowlers for Pakistan to lead the team in the ICC World Cup 2015. His style, persona and good looks clearly make him the highlight of this world cup.
Ehsan Adil: Adil is a new addition to team. We are yet to witness what he can deliver as a right arm fast bowler.
Sohail Khan: Sohail is being given a chance despite his average experience. However shouldn't be undermined as being part of the world cup platform can motivate any player.
Wahab Riaz: Wahab has surprisingly shifted his athletic skills to batting as well in the recent past. With his considerably good bowling, Wahab can perform both as a bowler and batsman.
 Seems like a balanced team for 2015 Cricket World cup? Let's see how this unpredictable Pakistani cricket team performs.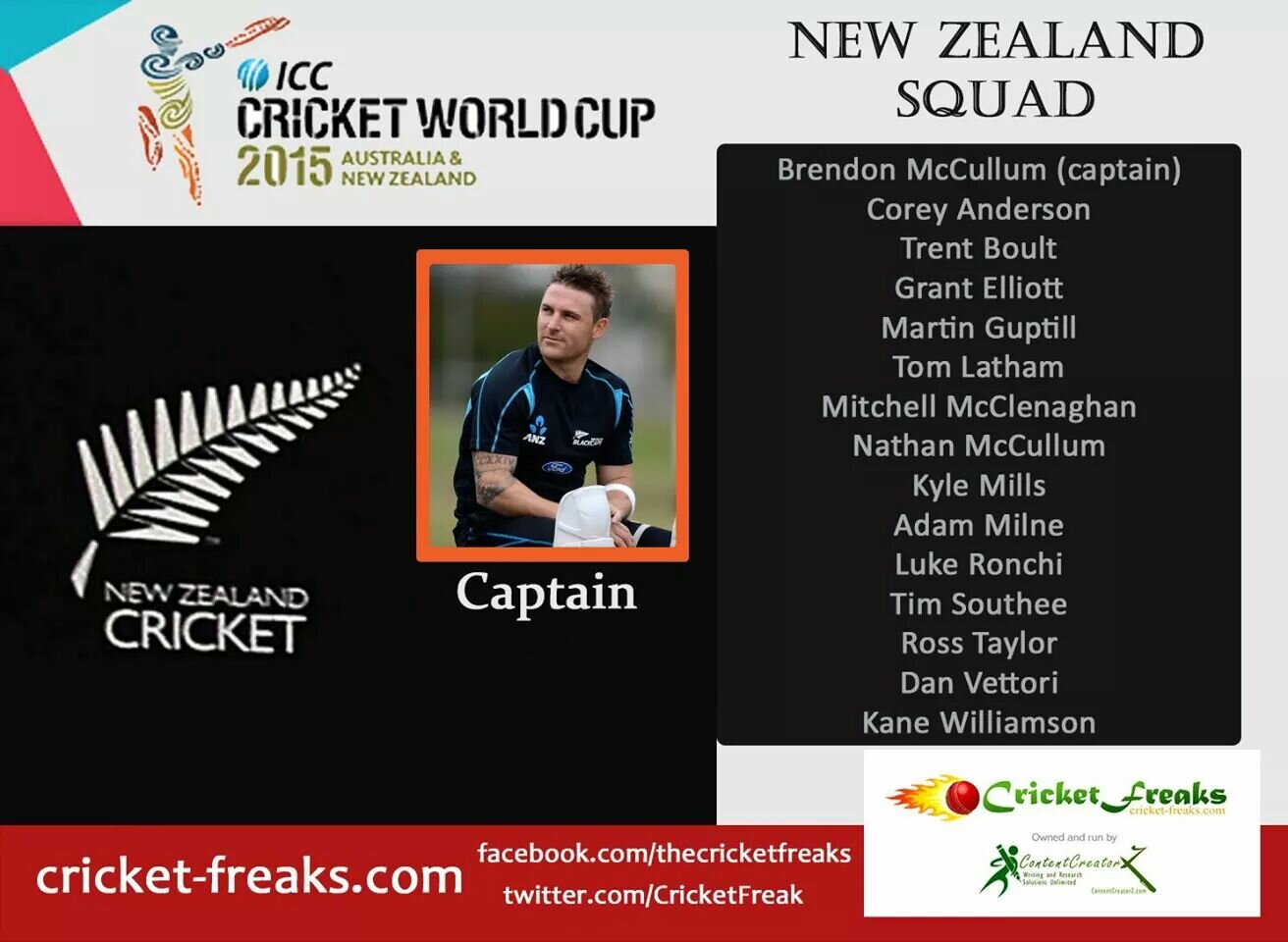 New Zealand's squad for ICC Cricket World Cup 2015 will be led by captain Brendon McCullum. New Zealand's batting side boasts of experience in form of Martin Guptill, McCullum, Kane Williamson and Ross Taylor. As for all-rounders, Corey Anderson and Grant Elliot will represent New Zealand. In the spin department, Daniel Vettori and Nathan McCullum with use their experience. In the recent series against Pakistan in 2014, Tim Southee showed his magical bowling skills which will be tested in 2015 ICC World Cup.
Squad of New Zealand for the ICC Cricket World Cup 2015
Brendon McCullum: is a wicketkeeper and batsman for New Zealand cricket team and is also heading his team in the event of 2015 Cricket World Cup. Before 2015 cricket world cup, McCullum had scored 5251 ODI runs including 27 fifties and 4 hundreds. McCullum knows how to build a match winning innings and with his experience, New Zealand is going to be a tricky contender for world cup trophy.
Trent Boult: is the cutest possible addition in the New Zealand side. He is a left-arm-fast-medium bowler with immense potential to take wickets in the most critical points of the game. Trent is rather a new addition to New Zealand side where he has taken 10 wickets in 11 matches before the world cup 2015.
Corey Anderson: In 19 ODIs, this left hand batsman has scored 2 fifties and 1 century with 131 being his highest score before the world cup.
Tom Latham: is a new addition to New Zealand team as a left hand batsman. He is also the wicketkeeper for Black Caps. He has played in 22 ODIs and 9 test matches before 2015 world cup.
Martin Guptill: is a top order batsman who has played 91 matches before 2015 world cup. In 91 matches, Guptill was able to score 19 fifties and 5 centuries. In 2015 Cricket World Cup, Guptill definitely has a lot to offer.
Grant Elliott: is a rather new player on the New Zealand side who has played only 52 ODI matches before the world cup 2015.H has scored 6 fifties and one century in the ODIs.
Nathan McCullum: is a right arm off break bowler and batsman Kiwis. He has taken 52 wickets in 57 ODI matches at an economy rate of 4.80. He could come handy for the New Zealand side in 2015 ICC World Cup.
Mitchell McClenaghan: is a left arm medium fast bowler who is has played 29 matches taking 60 wickets. He is an expensive bowler but could be dangerous for the opponents.
Luke Ronchi: is a wicketkeeper batsman for New Zealand cricket team. He has played 32 matches where he was able to score 3 fifties.
Kyle Mills: is a right arm fast medium bowler. He is an excellent bowler of New Zealand side who has taken 237 wickets in 167 ODI matches before

2015 world cup

. Among other fast bowlers, Kyle is going to be tough nut to crack for opponent teams.
Adam Milne: is a new addition to Black Caps and is yet to make a memorable impression on the cricket fans with his right arm fast bowling.
Daniel Vettori: Who doesn't know this legend? He has been in the New Zealand side since forever. Lucrative runs machine and spin bowling has made Vettori a match winner for New Zealand.
Ross Taylor:  is a middle order batsman with tremendous experience and batting skills. He has scored 11 centuries and 27 fifties in 142 ODI matches at an average of 41.26. What else do we need to know Taylor's awesomeness?
Kane Williamson: is a middle order batsman and has scored four centuries and thirteen fifties in 60 ODIs.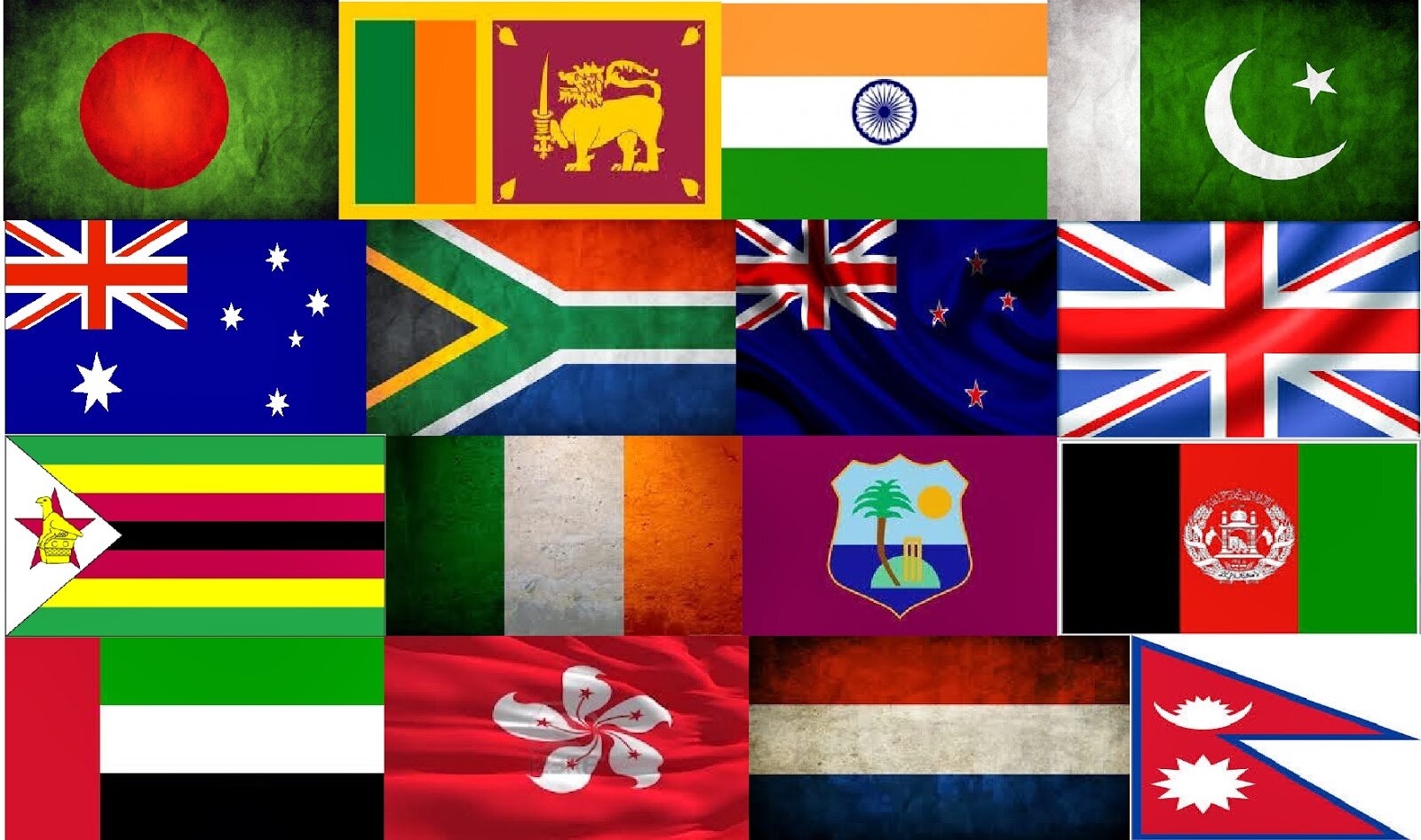 Read more..