Cricket is a sport that has had its fair share of exceptional players so here's a look at the very best from four of the best nations ever to play the game.
India – Sachin Tendulkar
Tendulkar's incredible record speaks for itself, with many regarding the Mumbai-born batsman as one of the greatest cricketers of all time as well as the greatest batsman of all time. The diminutive Indian began Test career at the age of 16, going on to play for India for almost 24 successful years. Tendulkar holds a number of records such as being the only player to have scored one hundred international centuries, the first batsman to score a double century in a One Day International, and he also holds the record for most number of runs in both ODI and Test cricket.
England – Ian Botham
Botham is as popular as ever in England and the all-rounder's popularity grew out of an exceptional number of years in the 80s and 90s when 'Beefy' put the Australians to the sword in the Ashes series. The Cheshire man was a fantastic all-rounder for the England team, notching 14 centuries and 383 wickets in test cricket, a record he held until April 2015 when James Anderson surpassed him. Indeed, England would love to have a player of Botham's quality these days, with recent odds on the team's tour in Pakistan not looking great. Pakistan are clear favourites and you really need to check comparison site bookies.com to get any value, with all the odds compared in one handy place as well as free bets and tipping advice.
Australia – Don Bradman
Bradman is an Australian and world cricket legend, with his career Test batting average of 99.94 often cited as the greatest achievement by any sportsman in any major sport. He is a national icon and even before his 22nd birthday, the Cootamundra man had set a number of records for top scoring – some even still stand! Bradman scored consistent runs during a 20-year career and some of his team-mates even said he was worth three batsmen, such was his prowess. Even following his retirement he was still loved, with Australia's then-Prime Minister John Howard calling him the 'greatest living Australian'. In 2009 he was posthumously inducted into the ICC Cricket Hall of Fame.
Pakistan – Imran Khan
Lahore's Khan was an incredible cricketer and Pakistan's most successful captain ever, as he led his country to a stunning 1992 World Cup victory during a career that spanned 21 years. Khan captained Pakistan at different points of his career but mostly through from 1982 to the World Cup victory in 1992. He had actually retired in 1987 but the all-rounder was brought back into the fold due to popular demand and the president offered him the opportunity, which he accepted. With 3807 runs and 362 wickets in Test cricket, he is one of eight world cricketers to have achieved an 'All-rounder's Triple' in Test matches and in 2010 the man who took World Cup victory at the age of 39 was inducted into the ICC Cricket Hall of Fame.
Ian Botham joined the English cricket team in 1976 and made his debut against West Indies on the 26th of August of the same year.

Botham was a fine all rounder with superb batting and bowling skills and had never given a below average performance in any match he played.

Ian

Botham's ODI career

consisted of 116 matches and he scored 2113 runs in all, which contain 9 half centuries. His skills with the ball were fairly above average which is pretty evident by his wickets (145) with 4/31 being his best figures. In test cricket, he took 383 wickets in 102 test cricket matches. 
Ian Bothm had been the test captain for England cricket team for quite a long period.
Sir Ian Botham was an

excellent all rounder

for English team and scored 5200 runs in test cricket including 14 centuries and 22 fifties. 
Botham played for his team in 3 ICC cricket world cups and is said to have taken many match winning wickets. Not that the English side ever won the world trophy but during the league matches, his performance never fell down, especially with the ball.

Botham was not a very reliable batsman however his fast bowling was always there to help his team take wickets.

Ian Botham was given the title of "Sir" and he still is the highest test wicket taker (383) for them. Ian Botham is still involved with Sports channels like ESPN due to his commentary skills and he also gives a detailed pitch analysis before the game play as an expert.

He is regarded as the best all rounder of English cricket side and is the leading wicket taker of England. 
Highlights of player profile:
Ian Bothom holds the record in test for being the fastest to achieve doubles of 1000 runs, 100 wickets, 2000 runs, 200 wickets, 3000 runs and 300 wickets. 

He also held a brief record for being the leading wicket taker in test cricket. 

Both scored a century along with taking 5 wickets in an innings and achieved this feat at 5 separate occasions. 

Botham is the first player to score a hundred and take 10 wickets in a test match. 

Read more..

Read more..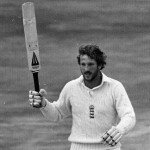 Details about best all-rounders in cricket history
Having tackled the openers and the middle-order kings, here are the terrific ten who most definitely 'can bat, can bowl'
Ian Botham
Tests: Highest Rating 646 (1980), Highest Ranking 1st (1978-1984).
ODIs: Highest Rating 469 (1983), Highest Ranking 1st (1980).
For a five-year period from 1978 to 1983 he truly dominated the world game, spending time on top of the bowling charts as well as the all-rounder list. His batting wasn't bad either- peaking at 811 batting points after his double-century against India at the Oval in 1982. He was less effective in One-day cricket, but still managed to muscle Greg Chappell out of top spot for a six-month period in 1980.